Sawston Scene is the village magazine for Sawston, Cambridgeshire. (Find out more about the village on Wikipedia.)
CORONAVIRUS / COVID-19 UPDATE
The April–May 2020 issue celebrates our fiftieth anniversary. As a result of the coronavirus, we had decided to double our print run and deliver free copies to everyone in the village as the best way of getting information out to everyone, but especially those with no internet access. The magazine went to press on Monday 23rd March, but by then we knew that we could not ask anyone to deliver the magazine. We stopped the press having printed about 1,200 copies. We will try to get those to the people they will most benefit, safely, as soon as we can – and that will include many of our subscribers – but meanwhile here is a PDF free for everybody: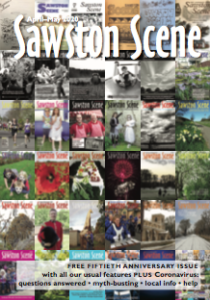 Please be aware that some of the information in the magazine will be out of date by the time you read it.
We have provided lots of information and help contacts so you can keep up to date. You can also click on any link to go to that website.
For updates on what has changed, sign up for the Sawston email.
The aims of the magazine are:
to be informative
to promote community spirit within Sawston
to be non-political, non-sectarian and non-profit making.
The first issue was published in April 1970 by a group of young mothers who were new to the village. One of them was Jean Osborne, who is still on our production team.
The magazine is published every two months, with issues coming out well before the first cover month, for February-March, April-May, June-July, August-September, October-November, and December-January. We print 1,300 copies of each issue: there are around 3,300 households in Sawston and many people pass them on, so we reckon that we reach about half the village.
O N   S A L E
You will find the magazine on sale in the High Street at Spar, Sawston Post Office, Cambridge Building Society, and the Children's Society shop, and at Sawston Medical Centre in London Road. Single copies cost £2, and you just take one and drop your money in the box.
S U B S C R I P T I O N S
You can subscribe for just £5 for six issues and have copies delivered to your door (if you're in Sawston or Pampisford) by our brilliant team of distributors. Subscriptions run from the April-May issue, and there are always forms in the February-March issue, and at Sawston Post Office. To subscribe at any other time, contact our subs manager: you pay for the issues left in the year, at 83p an issue Fill in the form and give it with your cash or cheque to the post office staff, or to your deliverer.
If you're outside the village, we can send your magazines by post and charge this at cost. A postal subscription costs £14 for delivery within the UK.
To find out more, take out a subscription, or join our team of volunteers to deliver the magazine, contact our subs manager Cheryl on 528423 or subs@sawstonscene.org
N O N – P R I N T    V E R S I O N S
If you find the printed version hard to read, please contact the editor as we may be able to supply an alternative version or arrange for articles to be read and recorded.
S A M P L E
Here's a sample PDF of one of our walks: this is the Pampisford Wych walk, from our December 2010–January 2011 issue.