Advertise to the whole village!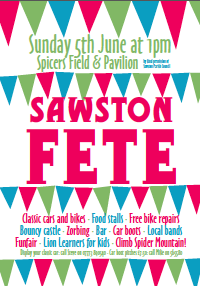 We'll be delivering an A5 leaflet just like last year's to every household in Sawston – covering 3,000 households and more than 8,000 people.
Last chance to book – email fete@sawstonscene.org before Friday 12th May. 
Book an ad inside now! Cover and inside covers full colour; inside black and white
Quarter-page (88mm high x 59mm wide): £30
Half-page (88mm high x 128mm wide): £60
Full page (188mm high x 128mm wide or full bleed 210mm high x 148mm wide + 3mm bleed) £100
Inside front or back page in full colour: £175 (only one of each available). UPDATE: Inside front cover SOLD. UPDATE: Inside back cover now SOLD
Back cover in full colour: £250 (one only). SOLD
To book your slot, contact fete@sawstonscene.org – and make your payment to the Sawston Scene Barclays account: details in our last email, if you're a regular advertiser.
Images must be at least 300dpi and you should export to PDF with fonts embedded.
We can also design an ad or even a logo for you – best price guaranteed! Typical price for an ad that takes an hour including revisions is £25.
Quarter page = Sawston Scene one-ninth and Half page = Sawston Scene two ninths – so your existing ad will be a perfect fit!